So we all have that dress that just sits in the back of the closet for years, and takes up space.
Throughout the years I have donated, sold & gave away tons of clothes from my warehouse.
But there were a few I left behind to re-alter.
And this blue flower dress is one of them.
I will be taking off the top blouse and just creating a beautiful full length skirt that you can wear with a t-shirt or a blouse.
The ending results will be a surprise to me because I still haven't decided if I want it short or long or even maybe a long slit on the side ;)
I will decide as time goes on.
Have you redesigned an outfit ?
How did it turn out ?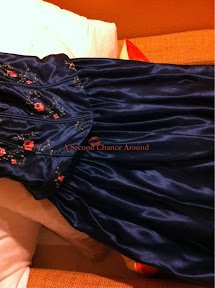 A Second Chance Around
**Kisses**